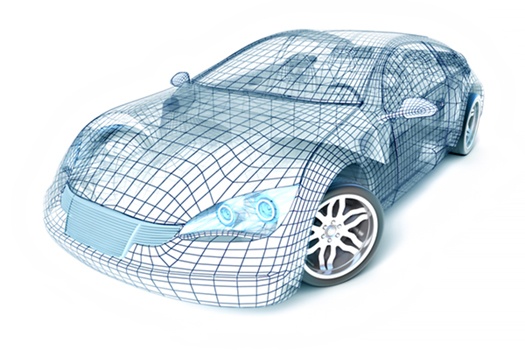 Having worked for ITI in the engineering data interoperability business for the last twenty years, I have seen quite a few changes in the landscape for CAD/CAM/CAE connectivity, collaboration formats, and how companies share data across their extended supply chains.
The most recent addition to interoperability formats has been JT. JT stands for "Jupiter Tessellation", a name given by the original developers, Engineering Animation, Inc. and HP. JT was officially introduced for publication in 2007 by UGS (now Siemens PLM Software). JT provides the capability to exchange CAD, PMI and PLM data in a neutral, lightweight format (~1 – 10% the size of a CAD file). The 3D CAD model representation in JT can be a combination of precise geometry and facetted representations at different levels of accuracy, with product structure assembly data contained within the JT file or defined in a top level PLMXML file that references the individual JT part files.
ITI noticed some initial resistance to the introduction of another neutral format, with concerns over the implications this would have for collaboration with companies who already had established STEP-based systems and methodologies. The neutral format STEP (ISO 10303) emerged as an international standard in 1984 as a successor to IGES. STEP is well established for collaboration and long-term archival processes, especially in the aerospace industry, and has continued to develop. Today STEP AP 242 supports exact 3D CAD geometry, lightweight facetted representations, 3D Product Manufacturing Information (PMI), and much more. Other proprietary formats such as Parasolid, ACIS SAT and DXF/DWG, plus native CAD connections and feature based translations, have further improved interoperability.
Indeed there were questions about whether JT was really a neutral or proprietary format. However, with the support of leading industrial organizations who recognized the need for this format and capability, JT has evolved to become an accepted international ISO standard. A JT Implementor Forum run by ProSTEP in Germany brings together CAD translation providers, the JT Open organization provides a framework and API for vendors to develop their own JT-based tools, and there are International Conferences and Industry days happening regularly around the world.
Siemens PLM Software operates JT Open, a unique program with an influential community of users, software vendors, and interested parties that promotes the adoption and use of the JT format throughout the product lifecycle. As a members of the JT Open program, solution developers, such as ITI, have access to the JT Open Toolkit for the development of JT-based visualisation, collaboration and data sharing applications.
The applications and activities based around JT have increased significantly. We are also starting to see elements of STEP and JT come together, with moves for assembly structure definitions to reference a mix of precise and lightweight facetted model representations in both STEP and JT formats.
One of the biggest impacts on the use of JT in recent years has been the switch of leading automotive OEM Daimler from CATIA to NX as their CAD system of choice for vehicle design. Daimler needed to establish an effective system of collaboration with their supply chain, many of whom are not using NX. They developed and introduced the JT Supplier Package (JTSP) and set of standards for collaboration that is now driving the extended use of JT as the chosen format for collaboration across the Daimler international supply chain.
CADfix's advanced geometry diagnostics, repair and translation tools, combined with a user-friendly wizard interface, ensure that industry requirements for JT based interoperability are met. ITI's multi-CAD CADfix translation software is a Daimler certified JT translator, and helps streamline JT collaboration processes – ensuring maximum productivity, reducing downstream rework and lead times, and guaranteeing product quality.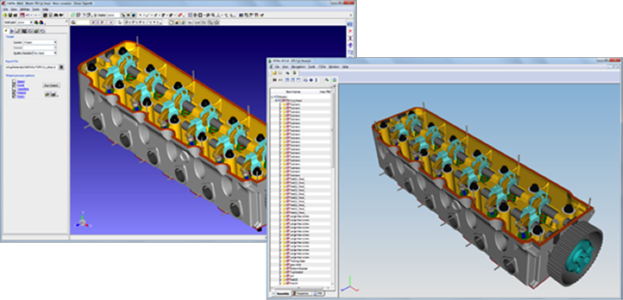 Multi-CAD JT translation for OEM compliance and collaboration
As with any translation process, collaboration via JT also requires validation, and this is especially true in the Model-based Enterprise (MBE) environment, where not only geometry but critical product manufacturing information (PMI) needs to be fully validated. ITI's CADIQ solution provides comprehensive validation of JT geometry and PMI and has been used by industry standards groups to validate JT translator performance.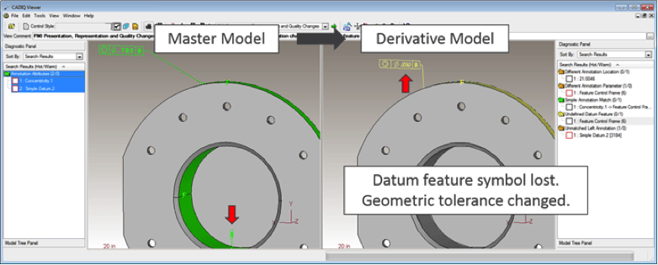 CADIQ verification of translated CAD model, identifying changes in PMI
The European automotive industry has been a leader in the adoption of JT for OEM/supplier collaboration. As more organizations adopt MBD and utilize lightweight files such as JT within their organizations – and require their suppliers to follow suit – the visibility and value of tools such as CADfix and CADIQ will continue to increase. There is no doubt that JT is here to stay as a main player in the engineering data interoperability world, and as a provider of translation and validation software we will need to be on our toes to support the rapidly evolving use of JT across not only the automotive industry, but more and more in aerospace and other industry sectors.
Are you struggling with JT collaboration? ITI interoperability experts are ready for Q&A below. We welcome you to share your opinions and experience about JT versus other neutral formats.