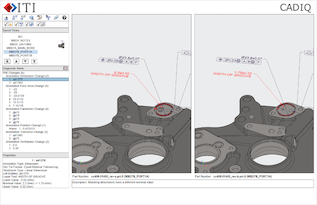 In May 2020 we released CADIQ 13.0.0. This latest version of our flagship CAD model quality and validation software provides several powerful enhancements that build upon the already powerful MBD model validation capabilities, improve user productivity, and expand the scope of CAD model formats and features supported. Also, CADIQ 13 includes hundreds of bug fixes and security-related updates. This blog will cover the highlights of what's new in CADIQ 13.
CADIQ Windchill PLM Integration
ITI is pleased to offer a CADIQ Windchill Integration for customers who are using PTC's Windchill as their PLM solution. This ITI-provided solution enables customers to speed up the CADIQ deployment timeline and reduce risk over the alternative of developing their custom integration.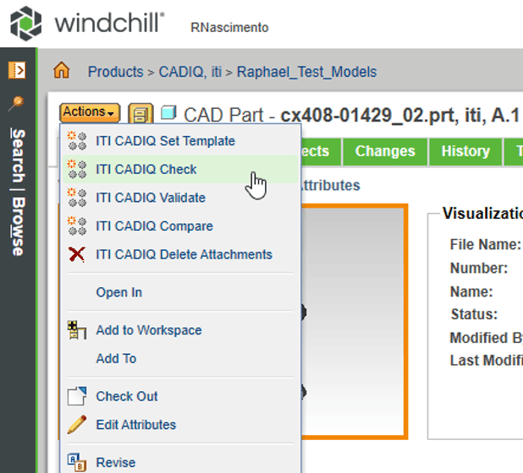 The CADIQ Windchill PLM Integration supports all three validation use cases of model quality checking, derivative model validation, and model revision comparison. CADIQ validation jobs may be executed either on-demand by user action or driven by workflow, enabling validation to be automated as part of regular product lifecycle activities.
Enhanced PMI Validation for MBD Models
CADIQ 13 adds 7 new annotation-related diagnostics, bringing the total number of annotation-focused diagnostics in CADIQ up to 113. We also enhanced some existing diagnostics to improve the handling of special cases. For example, the existing diagnostic Untoleranced Dimension now considers dimensions that include the text "MIN" or "MAX" and will no longer flag these dimensions as untoleranced.
Besides the addition of new annotation diagnostics, CADIQ 13 includes expanded support for advanced features within STEP and JT models. Examples include part section views and note semantic text within STEP AP242 models, and tabular note annotations within JT models.
To round it all off, we have also enhanced native CAD system interfaces to support advanced MBD-related capabilities. Most notably, CADIQ now supports assembly PMI in CATIA V5 models.
Validation of Required Notes and Parameters
It is quite common for MBD models to be required to contain standard notes and model parameters. For instance, some models need to display Data Rights Statements, ITAR Notices, and Data Classification Notes.
CADIQ now includes new diagnostics for validation of standard notes in models:
Required Note:
This diagnostic will report any required notes that are found in the model
Missing Required Note:
This diagnostic will report any required notes that are missing from the model
Incorrect Required Note Display:
This diagnostic will report any required notes that are not displayed in the model with flat-to-screen orientation
Incorrect Required Note Content:
This diagnostic will report any required notes whose content does not match the specified text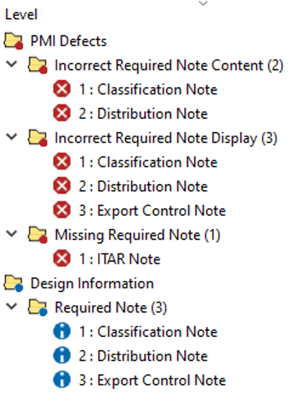 CADIQ 13 also includes two significant enhancements to the checking of standard parameters within models. The first enhancement allows for more complex validation of model parameter values, including the use of wildcards and other expressions. The second enhancement allows a user to validate a specified list of required model parameters, ignoring all others. This is useful for scenarios where only certain critical parameters in a native CAD model are published to a derivative model, but not all of the parameters are published.
Streamlined Assembly Validation
CADIQ 13 now supports the possibility of performing validation of assembly-level structure and general size, shape, and position of components without performing a detailed validation of each component at the part level.
This new option has the benefit of faster runtime since the component-level tasks are not performed. It also more closely matches the general business process of releasing assembly models and generating assembly-level derivatives only after the individual part models have been released and validated separately.
Job templates for assembly structure only validation can be found in the CADIQ config folder under the subfolders 'config_asm_struct_mm' or 'config_asm_struct-inch'.
Enhanced Reporting with 3D PDF and XML Reports
CADIQ's popular 3D PDF Reports have been enhanced for better usability. Navigating the various diagnostic results has been streamlined by the removal of Level and Diagnostic pull-down menus and the presentation of diagnostic results in a single indented list. Filter buttons have been added to filter the diagnostic list according to Geometry, PMI, or Properties.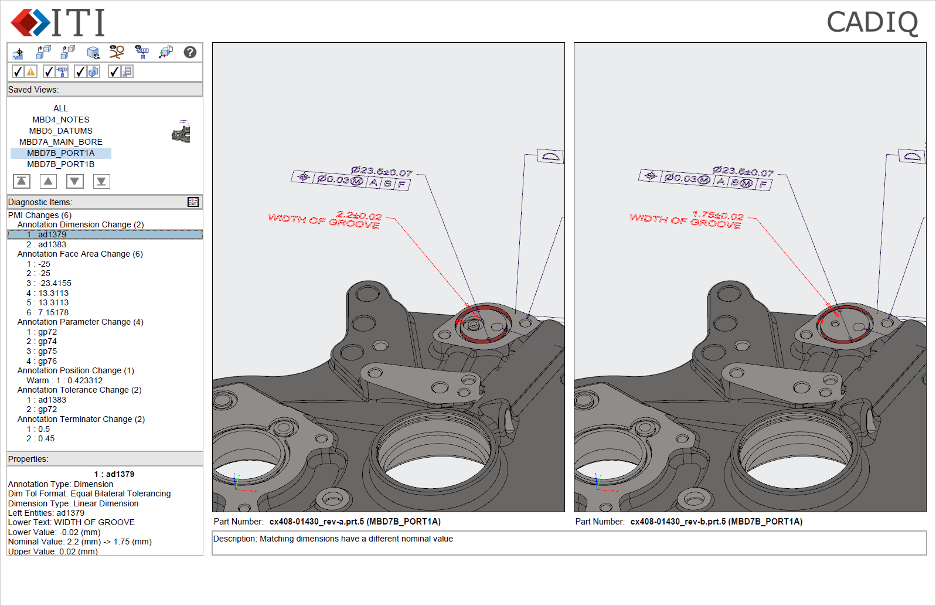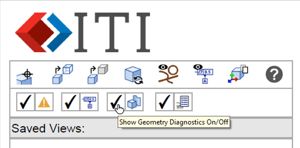 CADIQ's XML Results Report has also been enhanced with the addition of menu commands to create and view the XML Report from the CADIQ Controller. The results content of the XML Results Report has been expanded to include more details about the job results. The XML Results Report now includes a Job Information section that provides details about the job itself, a Model Information section that provides details about each CAD model analyzed, and a Summary Results section that provides the Hot and Warm diagnostic counts for the overall job and also broken down for each CAD model and Level.
For More Information
If you want to learn more about the exciting enhancements in CADIQ 13 please check out the Product Specification document that can be found in the CADIQ installation under <cadiq_install>/docs.
For more information about CADIQ, please check out the CADIQ product page.