I started working in the CAD software industry when AutoCAD was at Version 2.52 and the software was delivered on a 1.2 MB floppy disk. Even back then the topic of translation, data sharing and the re-use of design data in other CAD systems was an industry challenge. In reality, this challenge has existed since the creation of CAD.

I have now been a CAD migration consultant for over 15 years (eeek). In this blog post I will share with you the requirements and expectations for CAD conversion that I have encountered with customers all over the world, and what I learned from their initiatives.

In the early days CAD, IGES, DXF and native-to-native translators sought to and were generally successful in providing a solution for data exchange by converting wireframe or BREP data between systems. As CAD technology evolved and advanced with the introduction of Parametric/Solid modeling, a whole new set of higher level data conversion requirements came along with it.

In the late 90s a few software companies began to develop solutions to support the exchange and conversion of intelligent parametric CAD data between the various CAD systems. There are several common business drivers that bring on the requirement for feature based CAD conversion:
Acquisition of a company that uses a different CAD system
CAD consolidation (a company maintaining multiple CAD formats consolidating to a single format)
OEM/Supplier compliance
PLM migration (While changing or implementing a new PLM system, the customer changes their CAD system.)
I find that customers always have a common set of requirements associated with migration and data conversion. These include:
The desire to preserve the intellectual design property (retain the original design investment)
The need to be able to re-use and modify the legacy CAD data in the new CAD system
Effort to understand the available conversion methods and options
Recognition of the technology gaps or limitations of the various conversion methods
Of course the top two questions I am always asked are: "How long will the conversion take?" and "How much does it cost?". The good news is that the technology related to feature based data conversion has greatly advanced over the years. Today the technology supports functionality that I never thought possible.
Design intelligence can be preserved through the replication of the source data design history, features and parameters.
Feature based data conversion can and does yield modifiable data that can be re-used in another CAD format.
Several methods for converting CAD data exist, and a combination of ALL methods will likely be used in a mass conversion project.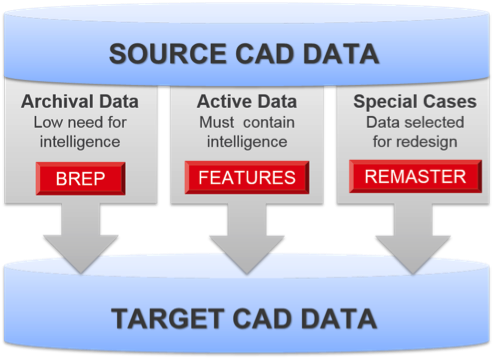 A properly planned migration may include each of the conversion methods
How long is this going to take?
Despite the advances, there are technological limitations to the conversion process, often driven by CAD system incompatibilities. I help my customers understand these limitations and determine the impact they have on their legacy project. If they assess options early for overcoming the gaps, it's not a problem. It is also important that customers appreciate that the project timeline is dependent on the data quantity, the data conversion time and any post conversion processing required.
How much will this cost?
Feature-based CAD conversion is still not cheap. However, the value and savings are significant in comparison to manually recreating the data in the new system or disposing of your companies original design investment -- and who wants to make that decision? Not me!
If you have CAD data that you need to re-use in another CAD system, you are probably asking me now, "What next?". Here is my suggested plan of attack.
So, what next?
Your biggest challenge is to determine what data needs to be converted. Knowing how the data will be used will help you decide. I cannot tell you the number of times I have asked the question "How much data do you need to convert?", and received the answer, "10TB of data or 100,000 models". I have learned that the better question to ask is, "How much of the data will you need to re-use?". Once you determine this, the amount of data with a feature-based conversion requirement becomes much smaller.


Evaluate your conversion options. There are low-cost quality conversion methods available to convert and retain your legacy data for archival. The data you need to modify and re-use is the data you will want to submit for automated featured-based conversion. I can assure you the cost for this conversion will be a fraction of any alternative conversion or remastering method that yields the same results. So many companies have embarked on manual recreation (in-house or offshore) and ended up paying 2 to 3 times for a design that was previously created in their legacy system.


You must accept the reality of feature-based CAD conversion. There are limitations and challenges with the technology. As you might imagine, and for obvious reasons, the major CAD software companies are not very eager to facilitate the seamless transfer of their proprietary design formats with their competitors. Hence, feature-based CAD conversion technology seeks to bridge this gap, but is still met with some challenges. The "magic CAD data conversion engine" still does not exist, however most of the technological limitations can be overcome with alternative processing methods. It is important to keep an open mind and understand the value versus the alternative.

Feature based CAD conversion has come a long way since the 90s and is a strong, stable and valuable technology. The key to your CAD data conversion and migration success is not only the technology, but the implementation of a plan and a process for your migration project. I hope to share more on this point in a future blog article, in the meantime feel free to drop me a comment below.