Plant and process layout software users often need to integrate hundreds of large equipment models and component sub-systems. These models are normally large complex assemblies, come from different design systems, come from internal or outside sources, and can individually be hundreds of megabytes or even gigabytes. Removing unwanted parts and features and converting complex geometry into simpler representations can quickly reduce the overall models' size and complexity and allow a seamless integration into the overall plant layout.
HATCH is an industry-leading engineering, procurement, and construction management firm with over six decades of business and technical experience in the energy, mining, and infrastructure sectors. With more than 9,000 employees and a presence in over 150 countries, HATCH's mission is to affect a positive change for their clients, their employees, and the communities they serve.
HATCH performed an internal survey of their engineers that indicated an average of 15 vendor files per project that required simplification. With four revisions per file and an average model size of 125MB, it was determined that up to 50 hours was spent simplifying each file. This resulted in significant non-value-add labor cost for every project.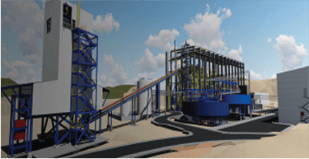 CADfix PPS is ITI's large model simplification solution. Based on ITI's CADfix technology, a leader in the interoperability market for over 25 years, CADfix PPS is a specialized packaging that allows users to automate and streamline large model simplification.
Some key features of CADfix PPS are:
Automatic removal of small parts based on bounding box size

Automatic removal of non-visible parts

Simplifying complex parts to minimum volume bounding boxes or cylinders

Removal of holes, protrusions, and internal cavities

Deleting user-selected entities

Converting geometry to simplified lightweight forms
Using CADfix PPS, HATCH's engineers can quickly remove unwanted parts and features to convert complex geometry into simpler representations. With automated and manual options, CADfix PPS gives HATCH the tool it needs to significantly reduce file size and complexity and enable seamless integration into the overall plant layout.
HATCH first deployed CADfix PPS in June 2019. In a sampling of 29 equipment models, ranging from 40 Mb to 756 Mb, CADfix PPS achieved an average file size reduction of 89%. Based on each major project's labor savings, CADfix PPS was estimated to have paid for itself in one year.
Click here to read the full Case Study.