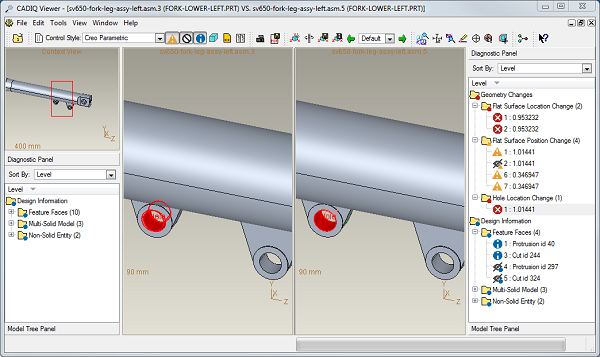 The CADIQ development team is hard at work as they put finishing touches on CADIQ V11, set to release in mid-May, 2018.
CADIQ is a vendor-neutral application that identifies model-based design (MBD) data quality issues that impact downstream re-use for manufacturing, simulation, data exchange and collaboration. CADIQ enables you to validate critical engineering processes including engineering change, revision control and manufacturability.
Key capabilities of CADIQ
Derivative Validation
Identify unacceptable differences between native and derivative models
Revision Comparison
Identify unintentional or undocumented changes between revisions of a model
Quality Checking
Identify significant defects in a native model that impact downstream re-use
CADIQ compares geometry, design features and product manufacturing information (PMI) between related models to identify significant differences. CADIQ also performs CAD assembly analysis, comparing CAD assembly structure. Results can be reviewed in the standalone CADIQ Viewer as well as summary text and statistical reports.
Highlights of the CADIQ V11 major release

Improved 3D PDF Reports
Navigation between the Saved Views of an MBD model are more intuitive. The 3D content of the PDF report is contained on a single page and a Saved Views widget provides a list of the Saved Views along with a thumbnail preview.


Sample CADIQ 3D PDF report that identifies a face with more than one geometric tolerance reference

File size of the 3D PDF report is significantly reduced for MBD models with multiple Saved Views.
Diagnostic items are shown in a list, making it faster and easier to investigate all diagnostic items in a model.
More intuitive PMI diagnostic results
The presentation of CADIQ results for MBD models has been improved by eliminating redundant diagnostic items for the same PMI entity.
Improved icons and folder display in the CADIQ Controller and Viewer
New diagnostic item icons for "Hot", "Warm", and "Information" items are more intuitive.
Folder icons also include a small glyph to indicate the highest severity item contained in the folder.
For more CADIQ information
Existing CADIQ maintenance customers will automatically receive the V11 upgrade.
If you are not an active maintenance customer, and would like to be notified as soon as CADIQ V11 is available, please contact us on the CADIQ Contact Page: https://info.iti-global.com/cadiq-contact-page
To learn more about CADIQ, watch this brief video, and visit the CADIQ page.