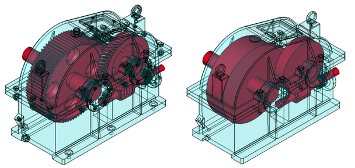 Advances in automatic MCAD model simplification and file size reduction
The latest version of ITI's CADfix PPS MCAD model simplification and file size reduction solution was released at the end of May. The new release sees advances in all areas the product for both interactive and automatic model processing, and consolidates CADfix PPS as one of the leading solutions to help plant and process, marine and offshore, power industry, and machinery and equipment engineers, efficiently simplify MCAD equipment assembly models, save time and cost, and ultimately reduce their time to market.
Automation and batch running
A key focus throughout the development of CADfix PPS 3 has been on improving the performance of the automatic model simplification process, whilst maintaining the essential balance between model processing time, file size reduction and the appropriate level of model simplification. With the addition of fully integrated automatic functionality, enhancements to legacy features, and greater simplification process intelligence, CADfix PPS 3 provides a more robust, efficient, and consistent fully automated MCAD model simplification solution.
The new and improved simplification functions target a host of commonly occurring MCAD features:
The automatic simplification of pipe runs has been improved with the preservation of small parts such as pipe bends/elbows and compression fittings, that might otherwise have been detected as small bodies and removed.
CADfix PPS 3 will now preserve conical endcaps, in addition to the improved handling of domed endcaps, for better volume retention of storage and pressure vessels.
CADfix PPS 3 utilizes greater intelligence when selecting candidates for simplification to primitive solid representations. The identification of gears and sprockets for cylindrical simplification is a prime example, removing surplus detail whilst maintaining the general volume and outer envelope.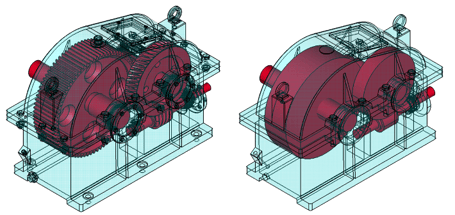 This new functionality is fully integrated into the automatic model simplification process, meaning no change to pre-existing workflows is necessary when processing models using the automatic model simplification Wizard interactively or in batch.
The CADfix PPS automatic simplification batch process now supports the use of retainable keep lists. Utilizing keep lists allows key components that appear in multiple models to be exempt from simplification across a set of MCAD project files. Keep lists can now be produced, through the CADfix PPS GUI, that recognize parts in MCAD models based on their physical and topological properties, location, and assigned meta-data. They can be used in a more efficient workflow for simplification of updated revisions of MCAD models.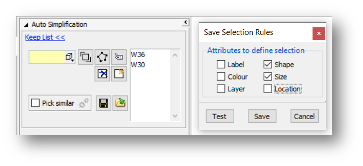 New manual simplification tools
The release of CADfix PPS 3 sees two new manual tools. The "Extrude Face" tool is designed to allow greater control over the simplification of complex components where successful simplification is subjective. Using the existing geometry of a body and selecting specific faces for extruding, allows complex components to be rapidly transformed into more rudimentary representations, whilst retaining key aspects of the part, and maintaining the aesthetic integrity of the original component.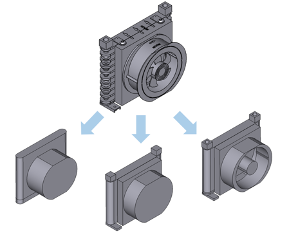 A new "Facet Decimation" tool has been added for the reduction of triangle count in faceted models. Faceted parts can be selected and decimated with user control over the decimation tolerance. This gives the user governance over where detail is removed from the model, allowing important components to retain their detail, whilst still providing significant file size reduction.

Import and exports
As with every new release of CADfix PPS the import and export interfaces are updated with incremental improvements to the standard interfaces such as STEP, DXF/DWG, Parasolid and ACIS SAT, and support for the import of the latest MCAD native files such as CATIA, Creo, Inventor, NX, Solid Edge and SOLIDWORKS. CADfix PPS 3 also includes updates to the new IFC import interface that was released in service pack 1. Full details of the supported MCAD file versions can be found on the CADfix web site.
Other improvements to the import process include:
A new auto clean-up of model geometry during import, increasing the efficiency and effectiveness of the simplification tools.
Support for the import and export of transparency attributes and the ability to promote face colours to bodies.
CADfix PPS 3 supports the merging of multiple files during import, merging files into an open session, and dragging and dropping additional models into the workspace. This enables re-use of pre-simplified parts and avoids repeated work.
Graphical User Interface and display
CADfix PPS 3 has a new graphical user interface (GUI) layout and style designed to minimize mouse movement. Users will also notice the faster display of shaded images.
A new progress status tool provides useful metrics for the percentage reduction of bodies, faces and facets throughout the simplification process. These metrics, particularly the percentage reduction in face count, provide insight into how much data has been removed from a model.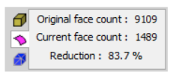 User documentation
CADfix PPS 3 has a new help manual, accessible through the GUI. The manual is a comprehensive source of information regarding the full scope of the CADfix PPS functionality, from high level detail on tool usage to more intricate details such as short-cut keys. It is intended to provide instant support to the user and advance their understanding of best practices when using CADfix PPS 3. Together with updated tutorial materials, CADfix PPS 3 comes with all the documentation needed to quickly become an expert in MCAD model simplification and data reduction.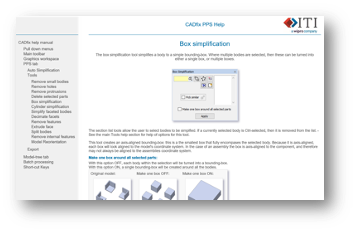 CADfix PPS free evaluation
If you think CADfix PPS can help you and your business processes, register for a free evaluation at: https://info.iti-global.com/cadfix-pps-evaluation
Questions? Please contact us at info@iti-global.com.