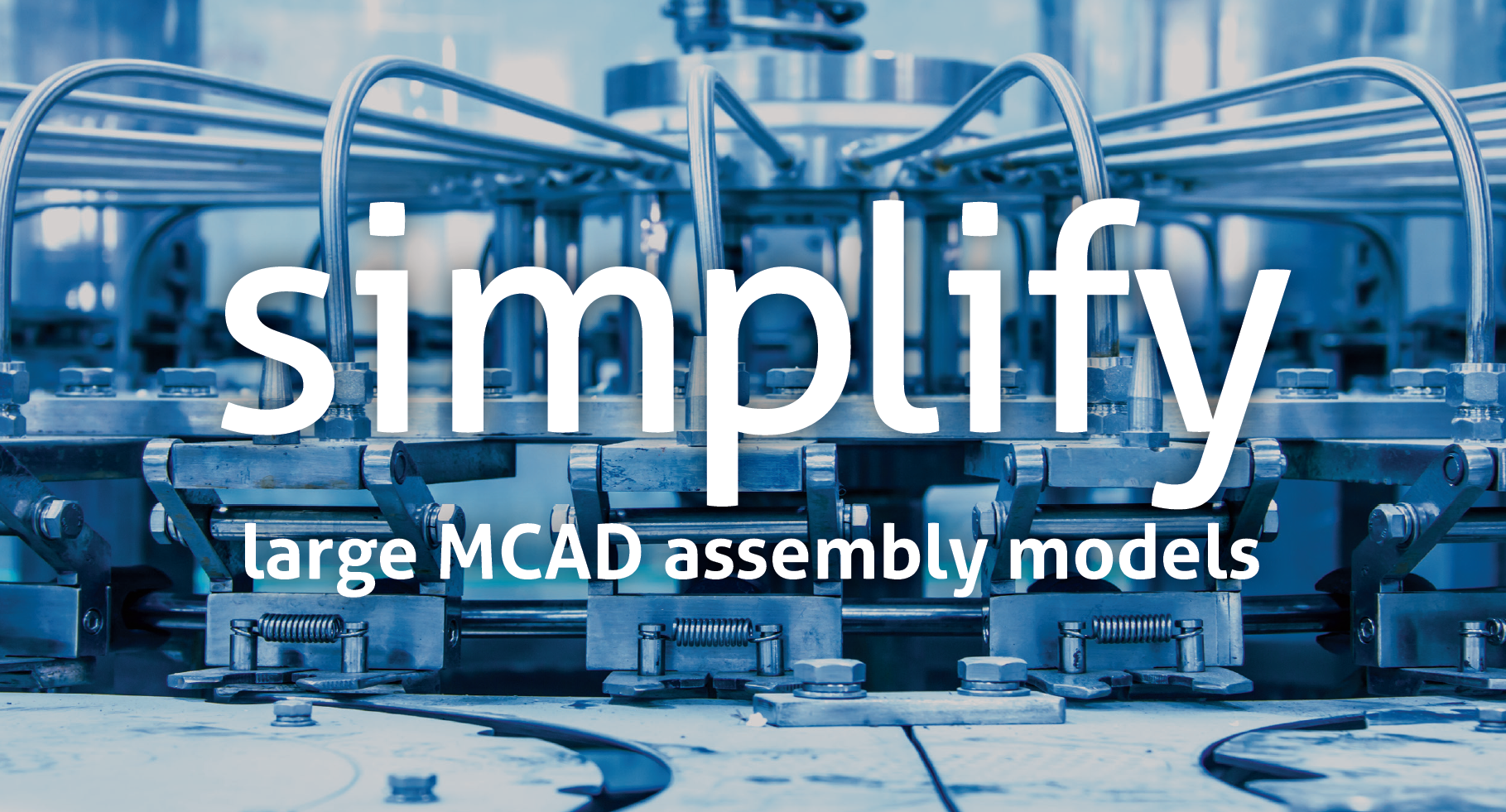 ITI is pleased to announce the release of CADfix PPS (Plant & Process Simplification) 12.0. The enhancements in this new release are the result of valuable feedback received from our EPC, OEM, and Owner-Operator customers in the Power, Chemical, and Food & Beverage verticals. This article summarizes the new functionality added to CADfix PPS 12.0 driven by clients who consulted with ITI's development teams to ensure that this latest release meets industry requirements.
Automated batch/server processing and reduced processing times
An important addition to the new release of CADfix PPS, especially for our EPC customers, is the ability to script model simplification processes for running in batch environments. You can now select multiple files and launch a simplification job from within CADfix PPS. Alternatively, it's possible to initiate a CADfix PPS batch run from the command line. This means the powerful CADfix PPS automatic simplification Wizard can now be integrated in fully automated server processes for equipment model exchange and collaboration.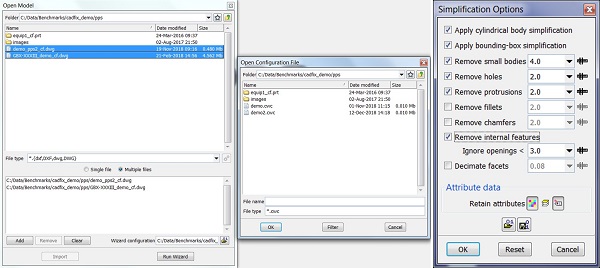 CADfix PPS 12 can automate CAD simplification in a batch process.
The processing of very large assemblies is faster. Options are now accessible and functional directly on the model via the assembly tree. And, now you can choose to simplify parts directly off the assembly tree without having to go into the interactive simplification tools.
Enhanced feature deletion functions
A new interactive "delete features" tool allows you to select groups of faces that make up complex CAD features on a solid for removal. The "protrusion removal" tool has been extended. So, rather than removing protrusions on complex solid parts, you now have the option to split them off into separate entities. Each can then be simplified or removed as necessary. This is especially useful in helping to simplify parts that have already been through a BREP shrink-wrap or similar simplification process in a CAD system before export.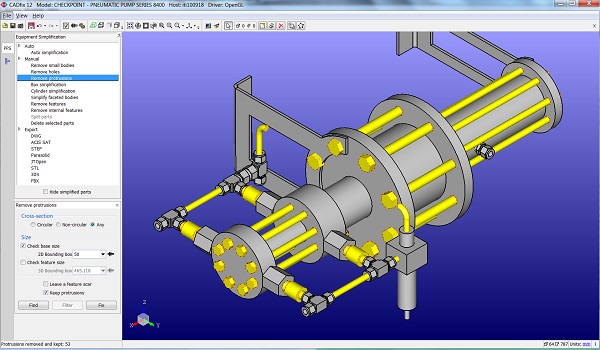 The protrusion removal tool in CADfix PPS 12 offers easier simplification.
Faster methods for selecting small fixings
CADfix PPS has always allowed you to select and filter entities for interactive processing based on size, color, or layer attribute. In assembly mode it's also possible to select parts based on the assigned component labels. The latest version of CADfix PPS extends the ability to select and group entities based on the assigned text label within the interactive model processing tools. This offers a fast, alternative method for selecting small fixings with names such as *hex*, *bolt*, *nut*, *ansi* before removing from the model.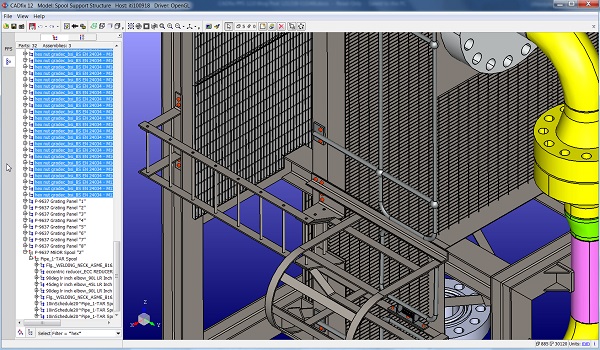 Small entities can be selected and grouped based on text labels within the CADfix PPS 12 interactive model processing tools.
Expanded format support
Some customers wanted to export the models to lightweight faceted representations, in addition to existing CADfix PPS exports to solid modelling formats (e.g. STEP, DWG, SAT, Parasolid). In response, ITI CADfix now offers export interfaces to the FBX, OBJ, and STL faceted model formats. You now have access to extended options for greater choice and control of the entities imported or exported.
Faceted-model support for CAD & BIM applications
In addition to importing faceted model representations, CADfix PPS can now import faceted models that have been exported from standard facet file formats in CAD design or BIM systems. Typically, these models comprise an excessive number of triangles and can cause problems when processing in different receiving systems. New tools in the latest release enable you to simplify faceted models by decimating (reducing triangle count) within a defined tolerance, deleting small faceted solids, or boxing faceted solids.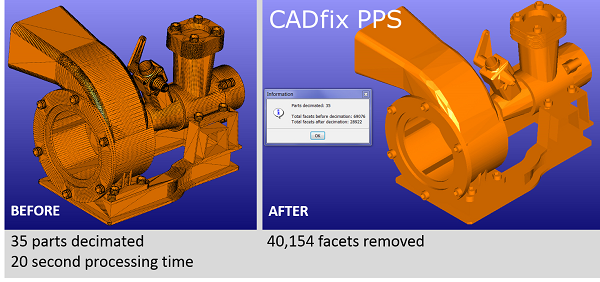 CADfix PPS 12 simplified this model by decimating 40,154 facets in seconds.
An interesting new development is the ability to convert faceted cylindrical structures back to primitive CAD solids. This allows you to convert large faceted offshore structures, often comprising of hundreds of thousands of triangles, into simple CAD solids that can be more effectively used in plant design systems. Going a step further to reduce data, CADfix PPS can convert the primitive cylindrical solids to their centreline representation. An example where this is helpful is when you need to reduce handrails to a basic centreline representation.
Streamlined evaluation process
In addition to our 3-minute CADfix PPS Overview and ROI Calculator, ITI continues to provide free trials of CADfix PPS. As part of your trial and to make your technical evaluation easy, we're also offering complimentary training and technical support. For more info on how to begin your evaluation, please register on our web site at https://info.iti-global.com/cadfix-pps-evaluation.
My gratitude to colleague, Andy Chinn, Managing Director, ITI UK, for his contributions to this piece.