Implementing MBD in a Multi-CAD Environment
Webinar: Implementing MBD in a multi-CAD environment
In a model-based enterprise where the 3D-annotated CAD model is reused across the entire value chain, the scope of what it means to be "multi-CAD" has expanded significantly.
Watch this 45-minute webinar to learn more about overcoming the challenges of collaborating effectively using multiple CAD systems and formats across the entire value chain.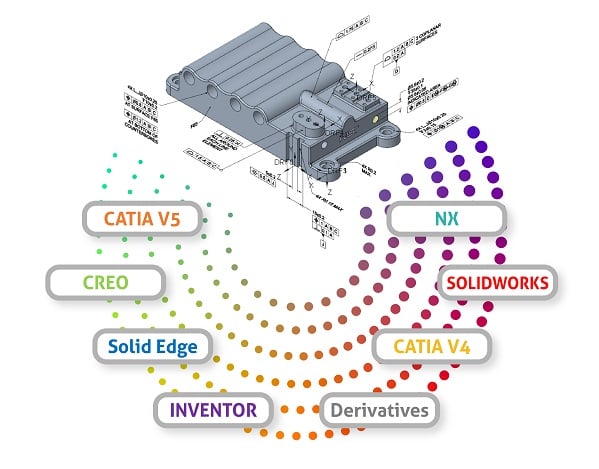 Historically the term "multi-CAD" was confined to the realm of the engineering department. Downstream functions were insulated from the problems of incompatible CAD data formats because the principal output was a static 2D drawing. Only companies who needed to collaborate on design activities across multiple CAD systems ever considered themselves "multi-CAD". No more.
Learn how to implement MBD effectively in a multi-CAD environment

Complete the form to watch the webinar

This webinar is presented by CADIQ Product Manager, Raphael Nascimento. Prior to ITI, Raphael spent over 20 years with PTC in roles such as sales, delivery and development for the Creo product (formerly Pro/ENGINEER). Raphael served as the PTC Creo Product Manager, responsible for the direction and overall strategy of Creo MBD and 2D detailing.