Five Recommendations for Managing Legacy CATIA Data
The retirement of CATIA V4 on December 31, 2015, marked the end of life of a technology that revolutionized the product-development processes of global manufacturers and ignited a paradigm shift in digital manufacturing. Even though the developer of CATIA V4 (Dassault Systemes) began hinting at CATIA V4's retirement as early as 2009, many organizations still face the challenge of preserving decades of intellectual property created in the CATIA V4 system.
Since 2008, consultants from ITI have successfully helped dozens of global organizations meet the technical and business challenges of moving V4 product data to V5. By using flexible technology solutions backed by a methodical, consultative approach, our clients have been able to deploy cost effective solutions while meeting 3D data quality and return-on-investment metrics.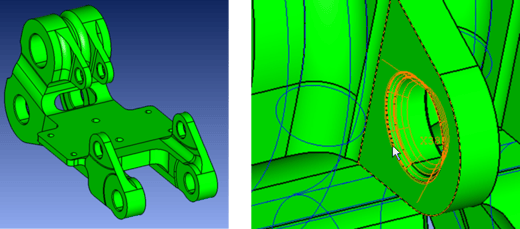 CATIA V4 obsolescence still poses a major problem for many product data managers. This technical brief identifies five recommendations for reducing cost and quality issues associated with CATIA V4-to-CATIA V5 conversion, validation, and reuse:

1: Maintain a near-term solution for opening and viewing CATIA V4 models
2: Adopt an automated CATIA-centric approach to editing CATIA V4 models
3: Upgrade CATIA V4 mock-up solids to exact CATIA V5 solids
4: Automate feature exchange, drawing associativity, and 3D MBD creation
5: Mitigate CATIA model divergence through CAD validation
Complete the form to download the technical brief.