How to Consolidate CAD Systems
How to consolidate CAD systems webinar
Every engineering team faces a CAD consolidation project at some point, due to acquisitions, legacy migration, etc. These projects are complex. The good news is you don't have to be the expert! With two decades of CAD and PLM migration experience, ITI knows how to avoid risk and ensure success. This webinar will demonstrate how CAD consolidation can be easy, using Proficiency.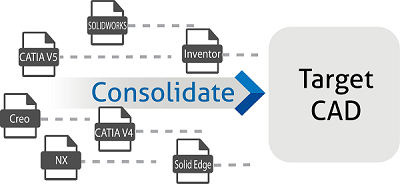 In this 45-minute webinar you will learn how to:
- Apply CAD analytics to measure your project's risks and challenges

- Incorporate CAD-to-PLM integration, metadata, and template requirements

- Craft a plan that incorporates engineering, PLM, and IT

- Transform 3D model feature history and maintain 2D drawing associativity
- Decide between data conversion and remastering solutions
Discover how to successfully plan and scope your next project.
Complete the form to watch the recording