Reducing the Cost Impact of Engineering Errors, Changes and Escapes for 3D Product Data
The origin of quality issues for 3D product data often start with engineering "escapes" buried in a complex system of inefficient engineering change processes that create functional gaps and labor redundancies. The problem is exacerbated by reliance on outdated methods and procedures for exchanging product data with partners throughout the supply chain. Simply preventing the added step of re-creating 3D product data can result in significant annual labor savings alone, ranging from $5M to $100M and higher.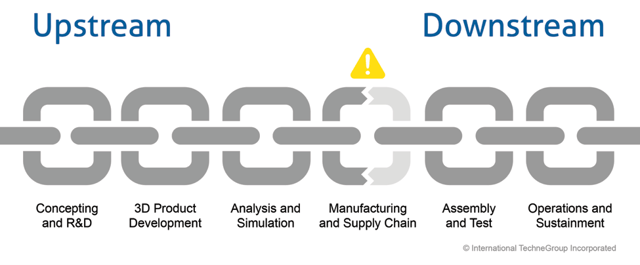 Manufacturers must view the engineering change process as a potential profit center rather than accept that such losses are a natural part of the product development process. The findings revealed in this white paper coalesce years of experience based on ITI customer consulting engagements, product and program studies, government research projects, and 3D CAD validation projects.
By applying the seven recommendations detailed in this white paper, organizations can start to identify potential risks, create a process, and reduce escapes in 3D product data:
Troubleshoot 3D product data in the context of a design factory

Trace production issues back to engineering escapes

Discover how downstream users track and communicate 3D product data changes

Extend your engineering change user studies to the supply chain

Establish an approved list of metrics and formulas for measuring ROI

Identify engineering errors in 3D product data early in the product lifecycle

Use a feedback loop to document and communicate change
Complete the form now to download the white paper (969KB PDF)